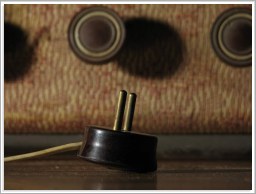 Roland gear, including a bunch of old school analog. Incomplete list would be something like JX-8P, MKS-50 (alpha juno rack), VP-9000, JP-8000, JD-990, JV-2080, JV-1010 x2, U-220 x3, U-110, D-110 x2, D-50, VP, XP, XV, Fantom-X, sweet old sound canvas 7 & 88 and many more.

Korg gear - notably: Radias, Wavestation, MS-2000, R-3, Trinity rack, Triton, and a vaiety of micros, kaoss stuff and monotrons.

Yamaha gear, including virtual acoustic and weird sYnging (proto-Miku) things. Sweet FM classic like TX-7, TX-81Z, DX-27 and FB-01 plus a truckload of PSR vintages like 16, 32 (Adlib chip!), 36, 100; FM+AWM vector TG-33 or non-vector PSR-47; miscellaneous MK and PSS series Square/FM/AWM/AWM2 toys, shameful Motif-rack XS for a few good sounds, less shameful MUs; VL winds; SG japanese-singer-in-a-box;

Ensoniq, Alesis, Akai, Novation, Oberheim and Emu classic gear. Favourites being a pair of Proteus2000 (packed with wave expansions, favourite of hose are Phatt, Orche, World, Protozoa) and all ESIs, S3000XL, Matrix-1000, OB-12, Ion, Micron and QuadraSynth.

Truckload of soviet synthesizers/organs ranging from 1968 to 1992: Электроника ЭМ-04, ЭМ-05, ЭМ-14, ЭМ-25, Стилофон; Юность Железная, 21, 73, 1132; Лель 22, ПСР, РЦ, Dr-8; Фаэми; Квинтет; RMIF Miki, Opus, Venta, TI-3, TI-5 and many more.
I can also do a lo-fi master using vintage soviet mixing console diectly to soviet four-track or even an absolute vintage tube mono tape reel-to-reel overdub recorder. For such occasions, vintage soviet microphones can also be used, as I have a plenty of them, including even carbon ones.

A lot of other weird digital and analog synth gear from Casio, Technics, Farfisa, Viscount, Kawai, Orla, Vermona and what not. Including also at least fifty chinese table hooters (most of them significantly improved, e.g. modified/bent with, for example, balanced studio i/o, FM input, imrpoved SNR). Vintage Casios including CZ-5000, CT-6000, RZ-1, CSM-1, CSM-10P, PT et cetera.
Effects rack is made up of array of Digitech StudioQuad x5, S100, Twin, few TSR, few RP; Alesis Midiverb-2, Midiverb-4 x2, Akira; Boss VF-1, SE-70; Korg DVP-1; Roland SRV-2000; Yamaha SPX-90 and the weird R1000; Viscount EFX-10, HP-3 x2; Lexicon, Zoom and what not.
I also design my own digital and analog gear. More on it - coming soon. Also, take a look&listen at my latest analog VCO and VCF modules in youtube/muffwiggler.